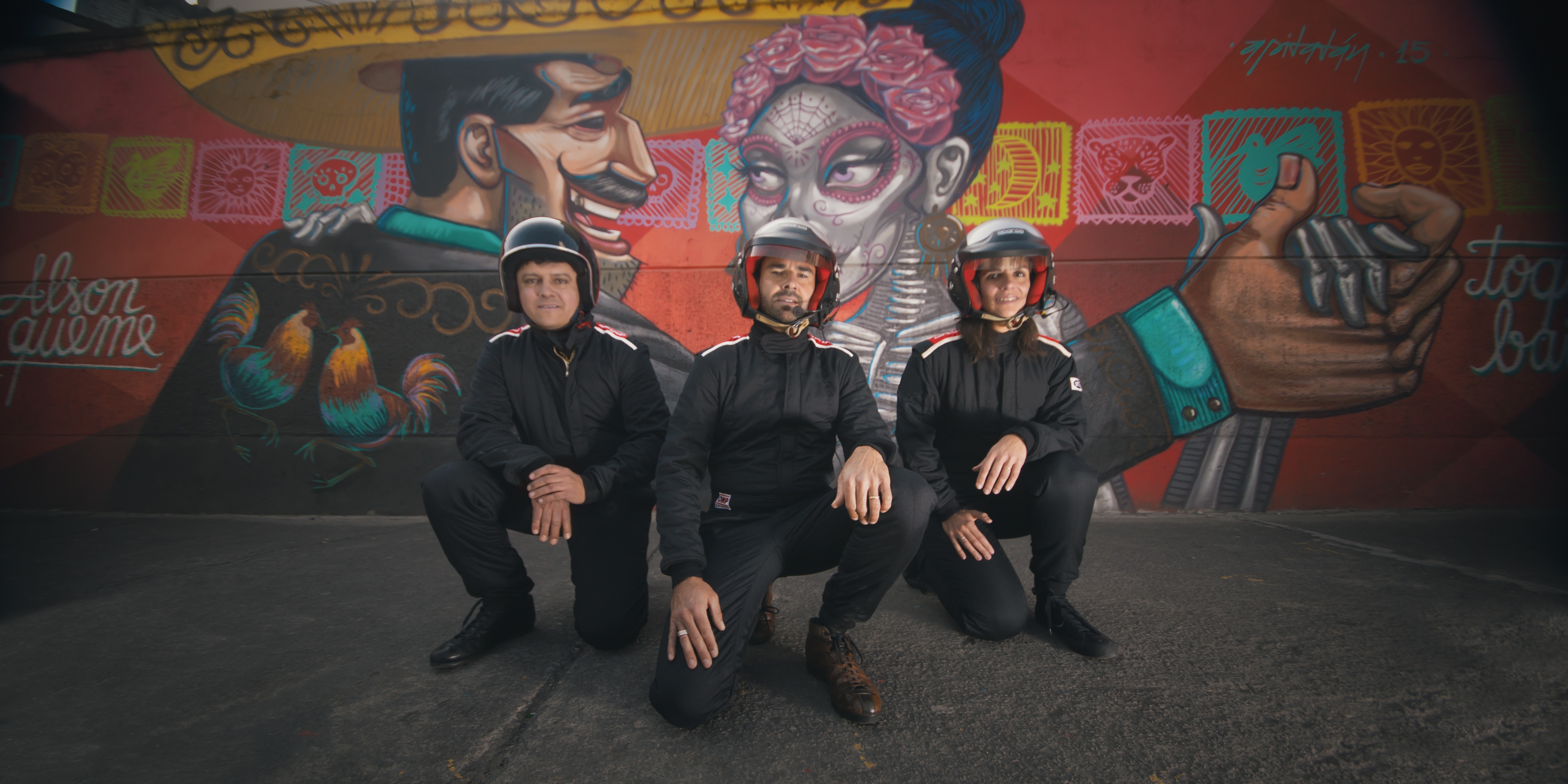 GETTING OUT THERE TO MEET PEOPLE
When preparing for the race people have opened their hearts; without them nothing could be possible. Through the Carrera Panamericana we've discovered the world of
high level car racing with its mechanics, preparers, drivers – amateur, experienced and professional – and race organisers. Then the Mexican people who we'll honour by
racing with their favourite car. Lots of events and fun get-togethers are in the works, including an event in a long-term care children's hospital. Throughout the race people will be able to get to know Panamita and our team and they'll be in for lots of surprises.
LIVING THE EXPERIENCE OF THE DAKAR AMATEUR MOTORCYCLISTS
We don't have a famous racing team or professional driving experience behind us. And that's precisely why it's so thrilling. Yes, the mountains are high, yes, the road is precarious but we're going to get to the top. The top for us – our carrera – is being part of a sporting challenge where endurance is the key, and an amazing human adventure. It
will also be a fantastic once-in-a-lifetime opportunity to build a community of friends who will all pull together around a crazy, and therefore wonderful, project.
FINISHING THE RACE
How great it would be to finish in the top positions for a day in our category, Historic A +! But finishing the race and making the most of this legendary race is what really counts. We're coming into the race with great humility and if there's something we'd love to achieve, that would be to get the People's Prize. Every year between 30 and 40% of the cars don't finish. Man and machine are put to the supreme test, and it's preparation, great driving and luck that can get you to the finishing line.
PANAMITA, A SMALL FISH IN A BIG POND
She's called Panamita, the little "Panam" (the carrera panamericana's nickname in the car world). We opted for a genuine 1950s VW Beetle and we've given her a latin heart so she can give those who are younger and faster a run for their money. (The much fancied Studebakers have engines of at least 600 horsepower). Her soul and what she represents as a brand will capture hearts and allow us to reach out to people. She was also clearly our only option from a financial point of view if we wanted to take part. A similar Porsche (the 356) would triple the budget.
BUCKET SEATS OR BABIES
Our budget is limited and when you don't have much money you need ideas. Picture the family coming back from France by plane at Christmas, our suitcases full of stuff we
need for the race (everything Italian and FIA-conforming). There are race-suits bought by a friend in Milan and bucket seats (do you know how big a bucket seat is ?!) that we told Air France and the customs were baby seats (our baby daughters are 6, 8 and 10!) so as to save on transport costs, local price preferences and taxes. This is a family project and we're involving our daughters as much as we can, as in the photo at the famous Mexican "dia de muertos" where we're all dressed up with our new mascot.
A FRIENDS PROJECT
This is the real driving force behind the project. Little by little we're setting up a community around Panamita. Friends of friends of friends are helping us and building up an ever-greater Mexican Wave of energy. We're learning how to be mechanics, drivers, brand creators, photographers, video editors, purchasers, vendors, event
organisers, website hosts, sponsor hunters and more.
Very soon you will be able to discover the world of Panamita on our website. We're nearly there and we need you, too!